Howdy y'all! It's Recipe Sunday!
I hope all of your Sundays have started off wonderfully. Mine... is ending! Before I share a special recipe with you... I must digress.
This morning Ben and I went to a new church, Bicton Presbyterian Church. We have been praying for some more solid teaching and a bit more of a traditional service to attend. We love Churchfreo, its laidbackness, our solid community of believers, but feel like that is more of our outreach versus our "spiritual food for thought." It is important to not only serve others for the Lord, but it is important that we maintain growth as well.
Well- I knew the Lord was going to show me something this morning and bless the fact that:
A. For the first time since I've been in Australia, I woke up early for a morning service (Churchfreo is a night church.)
B. He promises to bless those who earnestly continue to seek growth in Him!
To make a long story short, my heart was melting and smiling because this church reminds me alot of Trinity United Methodist in Conway where my grandparents attend, because they sang beautiful hymns and that 99% of the congregation was over the age of 60! The choir consisted of three ladies, and we were offered more chocolates and cups of tea than I can remember!
However, my socks were absolutely BLOWN OFF at this: GET THIS. The pastor and his wife, just moved to Australia 5 weeks ago from Tennessee! Small world! Dr. Steve Woods is an ARP Reverend from Memphis and Steve knows my Dad's business partner in Charlotte, who is on the board for the ARP church.
How amazing to make that connection and listen to some beautiful reformed, solid, theological teaching! I was able to in turn, bless the Woods family by answering some of their "Uni" questions because their daughter is a freshman at Ol Miss, wanting to transfer here, and I was able to talk about being an international student and offer some advice for their daughter! Side note: I was also blessed today because we were supposed to have an apocalyptic storm with 30+ knot winds- we were spared and it has yet to rain.
Off of the rabbit trail.
One of the most memorable holidays in Australia is called ANZAC Day (Australian and New Zealand Army Corps.) This is similar to our 4th of July and is celebrated every April 25th. This alliance was formed when these troops were sent to Turkey in World War 1. This national holiday commemorates all of those that served and were lost (about 10,000) during this particular strike on one of Germany's allies (Istanbul) in 1914 that ended in more fatalities on the Churchill side of things.
One of the food items that women in both countries (Oz and NZ) sent to soldiers during WW1 was a hard, long-keeping biscuit that could survive the journey by sea, and still remain edible. These were known as Soldiers' Biscuits, but after the Gallipoli landings (for the Istanbul raid) in 1915, they became known as Anzac Biscuits. Soldiers themselves may have made a similar form of biscuit from ingredients they had on hand: water, sugar, rolled oats and flour. The traditional Anzac Biscuit is hard and flat - ideal for dunking in tea and then eating. During the First World War, some soldiers used broken biscuits to make a form of porridge to add some variety to their diet.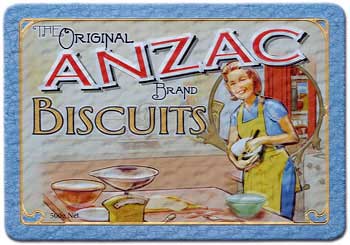 I have learned how to make these, they are very easy, very tasty, and are still a popular Australian dessert choice! Try them yourself :)
Melt 115g butter and 1.5 tablespoons of golden syrup in a saucepan. Add 1 teaspoon of baking soda (or bi-carb soda) dissolved in 2 tablespoons of boiling water. Once this mixture thickens, you will need to pour it into the following mixture quickly.
In a seperate bowl, mix in: 1 cup of rolled oats, 1 cup of flour, 1 cup of dessicated coconut, ½ cup of sugar.Mix in the liquid mixture. You should have now a semi-gooey ball of dough. If you find the dough is too dry, you may add butter.
Drop tablespoons of the mixture onto baking paper, and bake until a pale golden colour (about 15 minutes) at 180°C. Once out of the oven, leave to harden, and enjoy!

A Bikkie and A Cuppa!! Perfect snack :)
This recipe is best served with a "cuppa," or cup of tea :) Let me know what you think!